Our garments are handcrafted in our small factory in Cape Town, from ethically sourced organic cotton.
Introducing our premium men's lounge pants, crafted with the utmost care using ecological premium cotton. These pants are designed to provide the perfect blend of comfort, style, and sustainability, making them an ideal addition to your wardrobe.
Made from high-quality ecological premium cotton, these lounge pants offer a luxurious feel against your skin while minimizing the environmental impact. We believe in prioritizing sustainability without compromising on quality or design.
With two deep pockets at the front and a back pocket, these lounge pants offer ample storage for your essentials. Whether you need a place to keep your phone, keys, or wallet, these pockets have got you covered.
The elastic waistband and drawstring ensure a snug and customizable fit, allowing you to adjust the pants to your desired comfort level. The button fly adds a touch of convenience, making these pants versatile for various occasions.
Not only are these lounge pants perfect for relaxing at home, but they also double as comfortable pyjama bottoms. You can effortlessly transition from a cozy night's sleep to a lazy morning around the house. Lounging has never been more enjoyable!
Moreover, these pants offer versatility beyond loungewear and pyjamas. They can be styled as lounge trousers, making them suitable for casual outings, running errands, or grabbing a coffee with friends. Their relaxed fit and breathable fabric make them ideal for warm summer days or even beachside adventures.
Upgrade your loungewear collection with our men's lounge pants. Experience the exceptional comfort, practicality, and eco-consciousness that these pants offer. Embrace a sustainable lifestyle without compromising on style.
Made from 100% organic cotton.
Machine Wash at 40°.
Try Almgrens washing soap to better care for your garments
Warm Iron.
Don't Tumble Dry or use Bleach.
Shipping cost within Europe for orders above 79€/69GBP are free.
Normal delivery time within Europe is 3-5 working days. All deliveries are made with UPS. You will be provided with a tracking number once the order is shipped.
Shipping rates within Europe range from eight to thirteen Euro depending on the destination. 
Prices and payments
All prices include local VAT. Your cart will display the total purchasing price including VAT, product cost and shipping cost if applicable. Exceptions may apply to the UK and Switzerland.
For more information see our shipping policy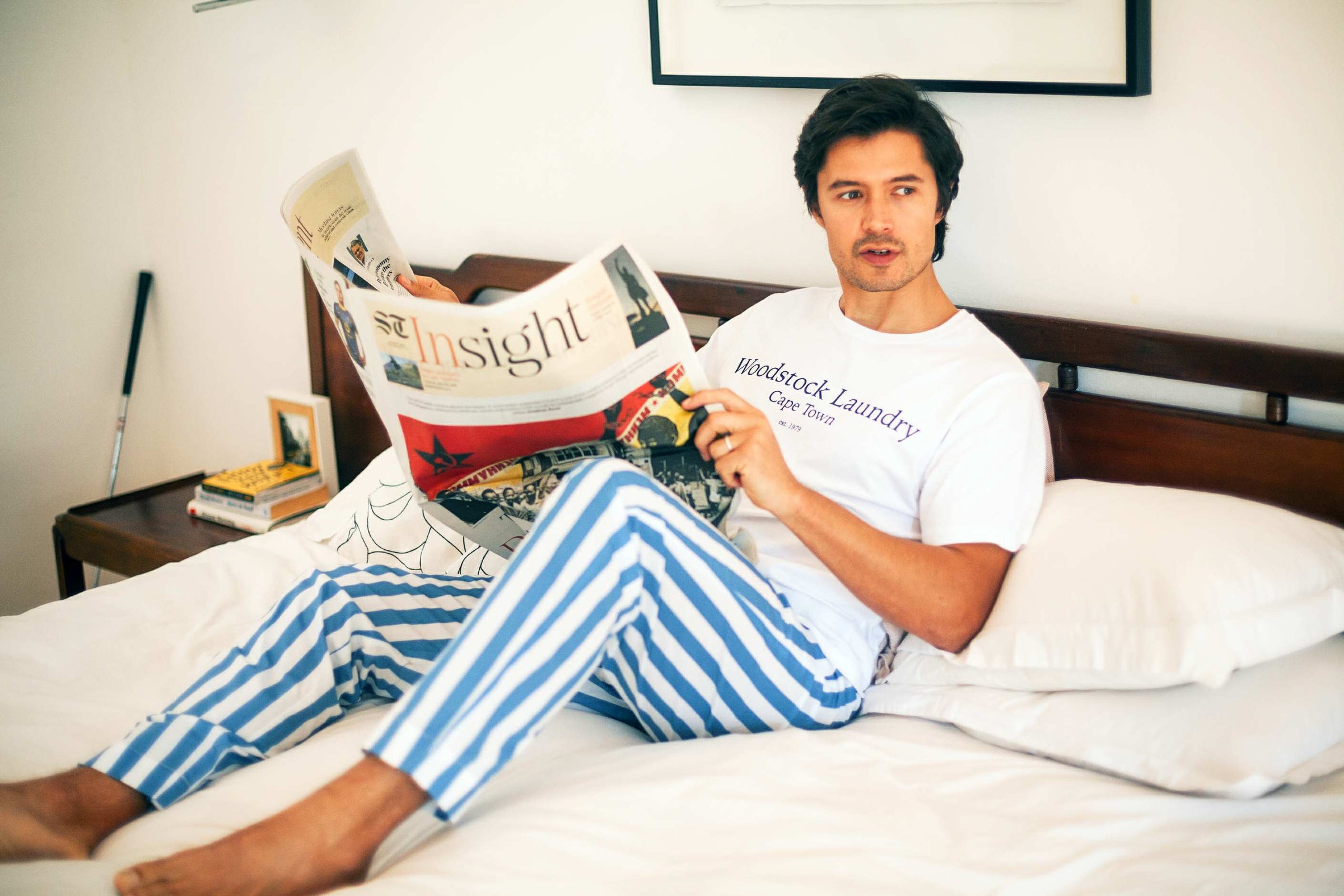 Soft & Stylish
Lounge pants for men
Try our superb men's lounge pants and experience a new type of relaxation and comfort.
Men's lounge pants
Best ever
Very comfy amazing light cool cotton that is superb
Outstanding value
The quality of this item is incredible! A perfect gift for someone. Service was amazing, ordered online and everything was perfect
Mens Lounge Pants - Jumping Cheetahs
Look, I love these lounge pants so much, I will end up owning the full range and getting the shorts for summer. So comfortable, I where them when visiting friends.
So comfortable, perfect fit - love them, would be great if they were kids matching loungers.
Mens Lounge Pants Bananas
Nag, apie
Bought it as a gift for hubby, as he lives in his paisley lounge pants. He thinks they're the best thing ever.
Man's Lounge Pants Bananas
Eclxcelent product will buy more
Mens Lounge Pants Bananas
Elastic and drawstring
I like baggy leisure clothing and was worried the XL would be too large according the sizing chart. However the loose fit was ideal and I can tighten the drawstring if needed. I'm a 34 waist and quite tall.
Mens Lounge Pants - Octopus Indigo