Made from 100% organic cotton.
Machine Wash at 40°.
Try Almgrens washing soap to better care for your garments
Warm Iron.
Don't Tumble Dry or use Bleach.
Our garments are handcrafted in our small factory in Cape Town, from ethically sourced organic cotton.
Shipping cost within Europe for orders above 79€/69GBP are free.
Normal delivery time within Europe is 3-5 working days. All deliveries are made with UPS. You will be provided with a tracking number once the order is shipped.
Shipping rates within Europe range from eight to thirteen Euro depending on the destination. 
Prices and payments
All prices include local VAT. Your cart will display the total purchasing price including VAT, product cost and shipping cost if applicable. Exceptions may apply to the UK and Switzerland.
For more information see our shipping policy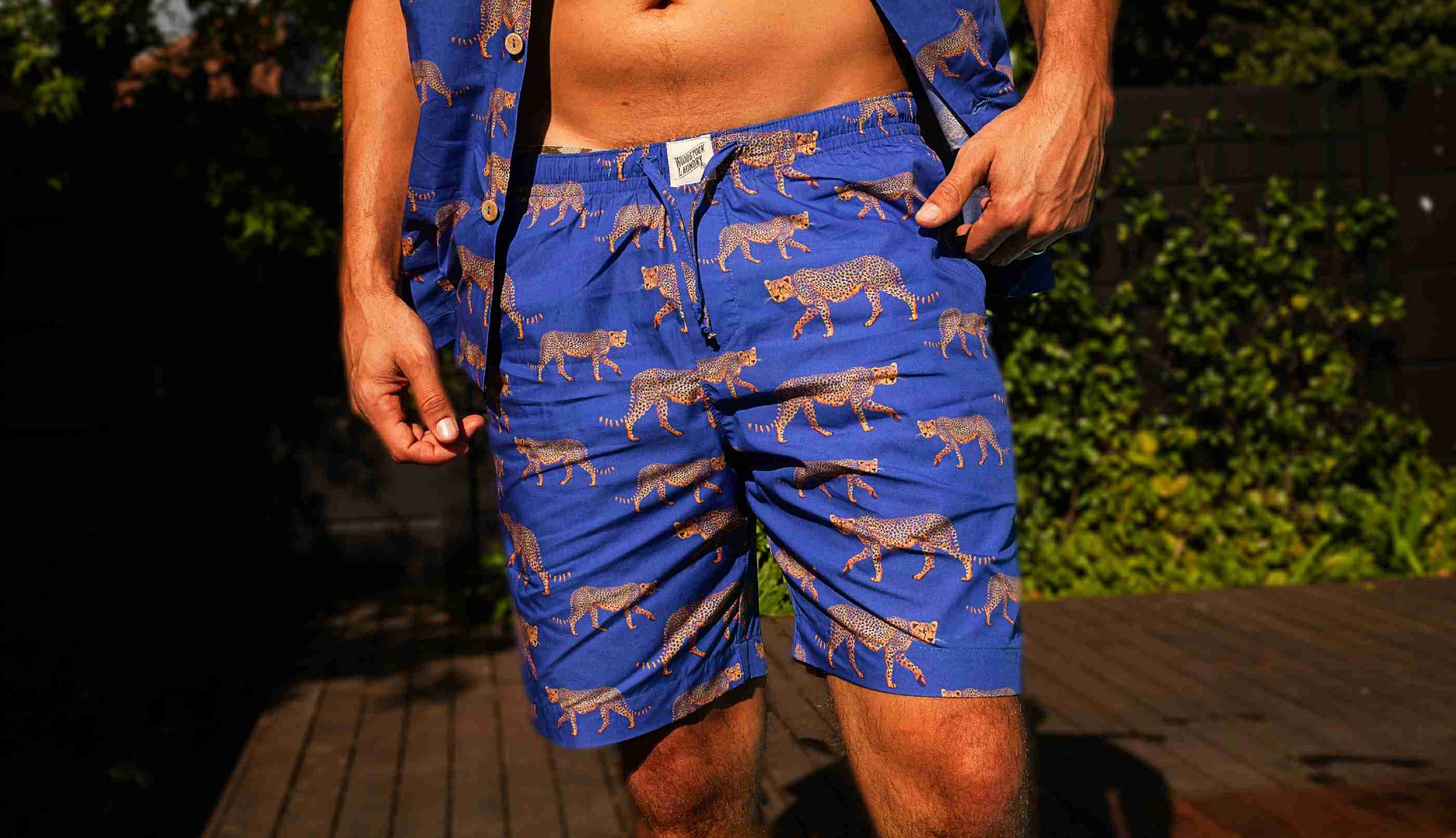 Cool & Stylish
Men's lounge shorts
Our garments are light yet substantial, warm but breathable, cool but timeless.
Men's lounge shorts
Mens loynge shorts
What an excellent product. The cotton fabric is cool to sleep in very good quality. Highly recommended.
Beautiful product , great quality and exceptional service.
Thanks team for going out of your way for me 👏!
Beautiful Products
We found Woodstock Laundry last year in Cape Town and bought a couple of items. Was delighted to find a website. Have bought my husband two pairs of pjs shorts as they are his absolute favourites. Thank you. Can't recommend highly enough. Service from Woodstock Laundry is also second to none.
Thank you so much for your wonderful review! We're thrilled to know you discovered us in Cape Town and have continued to enjoy our products through our website. It's great to hear that your husband loves his PJ shorts, and we're grateful for your high recommendation. Your acknowledgment of our service is deeply appreciated. Thank you for being a valued part of the Woodstock Laundry family!
Team Woodstock Laundry
Beautiful soft cotton. Very well made . Really comfortable. Highly recommend.
Mens Lounge Shorts - Sgt Peppers
Love the Octopus lounge shorts
Purchased two pairs for gifts and both are well loved. :)
cool stuff
great design and good quality
Mein Sohn liebt sie
Mein Sohn hat bereits die 4. Hose in Folge und er liebt sie.
Super Service!!!
Schnelle Lieferung, jedoch mit einem vertauschten Artikel darin. Wurde aber ohne viel Aufwand umgehend und großzügig behoben. Vielen Dank dafür